Outdoor Kitchens & BBQ's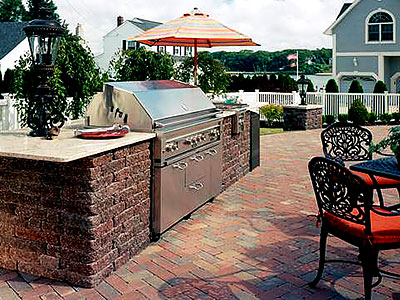 An outdoor kitchen & BBQ adds a dash of magic to dining and entertaining friends. Imagine the sun slowly disappearing in the background, slow breeze wafting from your yard trees, your garden plants taking a romantic silhouette. With this in the background, preparing food is no longer a routine chore at the end of a tiring day but a relaxing and fun activity with family or friends.

Jensen Pavers and Hardscape bring freedom to outdoor kitchen designs. Our design solutions are customized around your taste, entertaining needs, and budget. Our goal is to make your dream outdoor kitchen come true.


Accessories for an Outdoor Kitchen
Jensen Pavers and Hardscape build outdoor kitchens & BBQs that are not only aesthetically pleasing but also highly functional. We only use high-quality kitchen appliances to provide your family a total outdoor living experience that will last for many years.


Grill – What's more American than barbecue? We have stand-alone BBQ grills and built-in versions in a wide range of sizes. We can also outfit them with add-on features, such as smoker drawer and rotisserie.
Refrigerator – No meal is complete without a tasty beverage. An outdoor refrigerator lets you serve guests without stopping a conversation.
Refreshment center – A refreshment center provides everything you need to prepare a family meal or host an outdoor party. It includes sinks, drain boards, faucets, towel racks, and many more. Refreshment centers may be constructed as a stand-alone or built-in unit.

Our design team can help you choose the kitchen appliances that meet your budget and needs.


Benefits of Outdoor Kitchens & BBQ's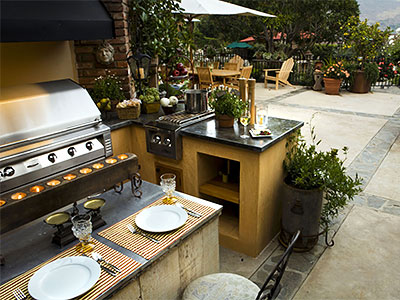 Outdoor kitchens & BBQ's bring diverse benefits to the homeowner:


Extend the functionality of your backyard – Outdoor kitchens & BBQ's transform an ordinary yard into an enchanting place for dining and entertainment.
Make dining at home more fun – Dining outdoors makes meals more special. The entire family will be enticed to join you in meal preparation. Light up some votives and add a little music, and dinner becomes an event.
Reduce A/C bill – Cooking indoors makes your house warmer in the summer, which means your A/C has to work harder to keep your house cool.
Makes entertaining easier – With an outdoor kitchen, you can be right where the party fun is. You will no longer miss a conversation as you no longer have to make trips back and forth to the house to bring food and drink to family and friends.
Increase the resale value of your home – Outdoor kitchens and BBQ's make any home look upscale and modern. The additional living spaces and aesthetic appeal that outdoor kitchens and BBQ's bring make your home highly saleable.
Your Outdoor Kitchen Design and Installation Experts
Putting together an outdoor kitchen requires adherence to certain principles and indoor functions. The process is much more complicated than many homeowners think. But, let us do the work! We have a team of creative designers and installers, who have several years of experience designing and building outdoor living spaces.

Feel free to browse our online gallery for design ideas, as well as appliances you want installed in your outdoor kitchen and BBQ. Better yet, contact us to schedule a free design consultation and see how we can make the outdoor living space you dream of a reality.
Areas We Service
All of Northern Utah Including: